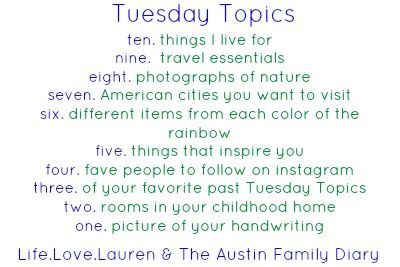 Eek I mised last weeks Tuesday Topics, but i am excited to be back. I made this list based on things I would need on a plane ride.
1) Trashy Magazines - I don't think I need to explain this one.
2) Snacks/Candy - I usually will take breath mints, gum and maybe some Sweettarts.
3) My Zune - do you even know what that is? It was microsofts answer to the iPod. Tommy bought me the original Zune after I broke two iPods. This was at least 6 years ago and it is still going strong.
4) Hand Sanitizer - in everyday life I'm not obsessed with germs, but when traveling this is a must.
5) Hand Lotion - Since hand sanitizer can dry your hands out you need some lotion.
6) Lip Balm - no explanation needed.
7)Wallet filled with money - most days I carry 10 bucks on me. If I was going away I would need to make sure I had money in my wallet.
8) iPhone -A phone is not just for calling/texting. This would keep me entertained especially if a flight is delayed.
9) My Kaboo Bag - this bag is big and an hold all this stuff plus anything else I might throw in there.
Pin It Now!