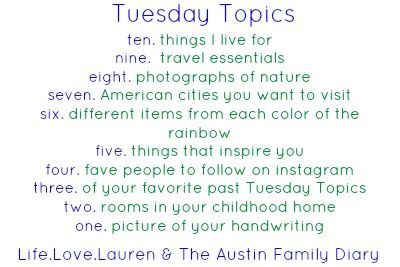 Tommy and I were just talking about how we wish we could travel more. We wish we could go back in time and tell our younger selves to take advantage of being kid free and go on as many vacations as you can. Life just gets more complicated and sadly vacation gets put on the back burner especially when one is on a budget.
I am compiling my list of 7 American cities I would love to see. This is of course assuming that cost and childcare are not a factor.
1) Charleston, SC
-I love history and Charleston just seems to be filled with lots of historical homes. Plus lots of yummy southern food to eat.
2) Savannah, GA
- Again historical, beautiful and did you know they have a huge celebration for St. Patty's Day every year? I would like to hit that up. Oh, and i know Paula Deen is not every one's favorite right now but I am curious if her restaurant in Savannah is even that good? Sometimes celeb restaurants are popular just because they have a chef on TV and they don't have the food to back it up.
3) Key West, FL
- Tommy has been and loved it and than we watched a travel show about a resort on a private island off Key West. The resort costs a bizillion dollars a night but since money is no object in this list I am adding it.
Source:
Westin Sunset Keys
4) New Orleans, LA
- More to see the garden district and less to see Bourbon Street. Are you noticing that history seems to be the trend in picking places I want to visit??
5) Newport, RI
- I have been to Providence, RI a couple of times for work, but never got to explore RI beyond that. The mansions in Newport look awesome.
6) Williamsburg, VA
- It was always my dream to go to Colonial Williamsburg and I never got to go as a kid. Hopefully the boys inherit my love of history and we can plan a family vacation for when they are older.
7) Pigeon Forge, TN
- Don't laugh but I really want to go to DollyWood. Ya know the amusement park owned by Dolly Parton. Oh and this might be a reality since my sister is down for going. You can rent some A-MAZING cabins with mountain views and be really close to the park.
Pin It Now!